Bacon Wrapped Potatoes Recipe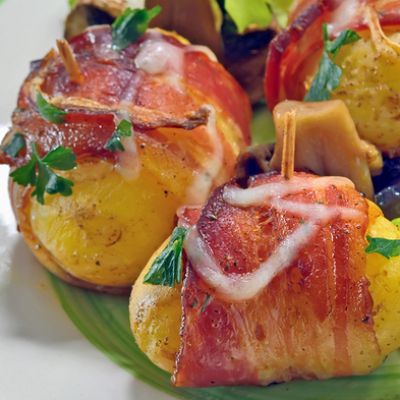 Bacon wrapped potatoes recipes are easy to make and are the perfect appetizer for a hungry crowd.
Ingredients
20 baby sized potatoes 1-2 inch in size
7 strips of thin sliced bacon cut into thirds
20 wooden cocktail sticks, soaked in water for 15 minutes.
1/2 cup shredded cheese (mozzarella or your choice)
Directions
Preheat oven to 400 degrees F.
Wash the potatoes and put them into a cooking pot. Just put enough water to cover the potatoes. Bring to a boil and cook for about 10 to 15 minutes until they are cooked but not mushy. Test to see if ready by inserting a small sharp knife. Once cooked drain the water so they stop cooking any further. Set aside.
While the potatoes are boiling cut each strip of bacon into 3 equal sized lengths. In a frying pan on the stove-top, partially cook the bacon pieces. Do this in increments, just a few pieces at a time in single layers. Donít cook to much, just enough to get them started. As each batch is ready, dab the bacon fat off by placing the pieces onto a dish lined with paper towels.
Continue the process of partially cooking the bacon until all the pieces are ready.
Wrap the bacon pieces onto the cooked baby potatoes, holding the bacon in place with the soaked cocktail sticks.
Put the prepared potatoes into a baking dish. Place them with the bacon side up. Do not stack them.
Bake for 20-30 minutes or until the bacon is cooked.
The moment they come out of the oven top with a couple shreds of grated cheese so they melt while the food is hot.