Baked Cauliflower With Cheese Recipe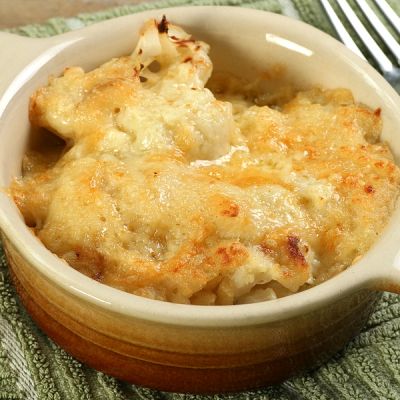 This baked cauliflower with cheese recipe is a great way to prepare a tasty cauliflower dish.
Ingredients
1 medium cauliflower
1 Tablespoon butter
1 1/2 cups milk
1 Tablespoons all purpose flour
1/4 teaspoon paprika
1/8 teaspoon cayenne pepper
1/4 lb white cheddar cheese, grated
3 Tablespoons fresh grated parmesan cheese
Directions
Preheat the oven to 350 degrees F.
You can either bake in one 9" baking dish or divide into 4 individual baking dishes. Brush the baking dish(es) with butter.
Wash the cauliflower and separate into bite-size florets. Bring a pot of water with 1/2 teaspoon of salt to a boil. Add the cauliflower and cook for about 5 minutes, just to the tender stage.
Drain the water. Add cold water to the pot to cool down the cauliflower then drain.
Combine the milk, flour paprika, and cayenne together in a saucepan. Bring to a simmer over medium heat, stirring with a whisk. When the sauce thickens, stir in cheese. Season to taste with salt and pepper.
Place the cauliflower into the baking dish(es) and pour the cheese sauce over. Sprinkle the parmesan on top.
Cover the baking dish(es) with aluminum foil and place into the preheated oven. Bake for 15-20 minutes.
Uncover and bake for another 5-10 minutes or until golden and the cheese is bubbling.