Baked Chicken Meatballs Recipe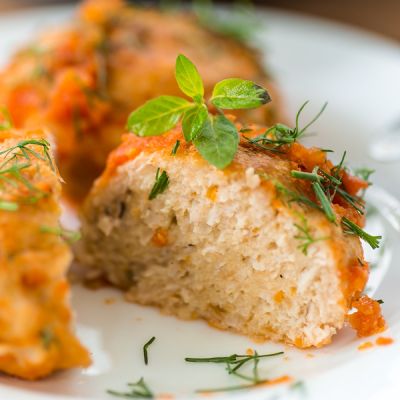 This baked chicken meatballs recipe is so good that it can stand alone with just some rice or a salad.
Ingredients
1 lb ground chicken
2 Tablespoons fresh parsley, finely chopped
1/2 medium onion, grated
1 1/2 teaspoons paprika
1 teaspoon cumin
1/2 teaspoon ground black pepper
1/2 teaspoon salt
1/4 cup oil
1/2 cup flour, to coat (optional)
1/2 cup finely grated cheddar cheese (optional)
Directions
Mix parsley, onion and spices with the ground meat until spices are evenly distributed.
Roll mixture into 1-inch balls and flatten slightly.
Dip in flour to coat.
Pour oil to cover bottom of a large frying pan and heat to medium heat.
Cook balls in oil, turning frequently, until done. About 12 minutes.
In the meanwhile, preheat oven to broil (500 degrees F) and line a cooking tray with foil or parchment paper.
Place cooked meatballs onto tray, top with grated cheddar and broil until the cheese begins to bubble.
Let cheese cool slightly before serving.