Baked Potato Fries Recipe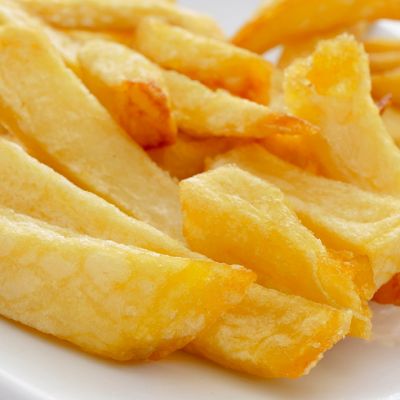 This baked potato fries recipe is one that kids of all ages will just love and you may find this becomes a regular on the menu. They are easy to make.
Ingredients
4 russet potatoes
2 Tablespoon olive oil
1 teaspoon garlic powder
1 teaspoon onion powder
1/8 teaspoon salt
1/8 teaspoon pepper
1/8 teaspoon cayenne pepper
Directions
Preheat the oven to 425 degrees F.
Line two baking sheets with parchment paper and grease the paper with a little olive oil.
Peel and wash the potatoes, cutting off any dark bruises. Cut the potatoes in half lengthwise, then again and once again,so you end up with nice big potato fries. Pat the potatoes dry with paper towels.
Put the potatoes into a large bowl and drizzle on the olive oil, toss to coat.
Arrange the fries so they are single layer. They will not bake to a crisp state if they are stacked.
In a small cup stir together the garlic powder, onion powder, salt, pepper and cayenne pepper.
You can add more seasoning to taste.
Sprinkle onto the potatoes and put them into the preheated oven.
Bake for 30-45 minutes and you will want to turn them over once or twice so all the sides are golden brown and crispy.
Serve nice and hot!