Baked Salmon Fillets Recipe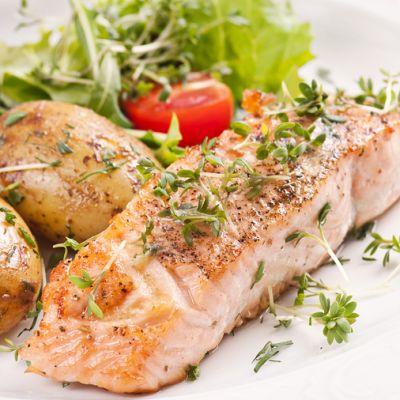 Healthy baked salmon fillets, Delicious served with potatoes and a fresh salad.
Ingredients
6 Tablespoons olive oil
1 teaspoon dried basil
1 teaspoon salt
1 teaspoon ground black pepper
2 garlic cloves, minced
1 Tablespoon lemon juice
2 (6 ounce) salmon fillets
1 Tablespoon thyme, to serve
Directions
To Prepare marinade, Whisk together, oil, basil, salt, pepper, garlic, and lemon juice into a small bowl.
To marinate, In a large dish, Place salmon fillets and pour the marinade over top.
Place salmon and marinade in the refrigerator for 1 hour, turning fillets one or two times to evenly coat.
Preheat oven to 375 degrees F. Line a baking dish with aluminum foil.
Place fillets with marinade into foil lined dish.
Bake 35-45 minutes, until fish flakes easily.