Baked Spinach With Cheese Recipe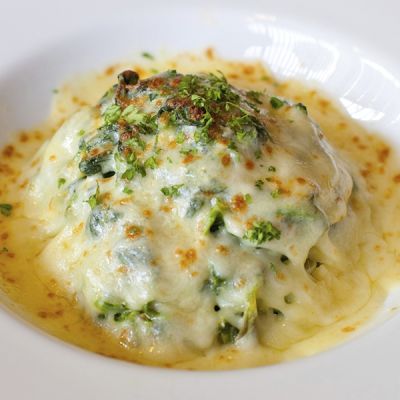 This baked spinach and cheese recipe is decadent and delicious.
Ingredients
1 cup finely chopped spring onion
3/4 cup crumbled feta cheese
1/2 cup grated Edam cheese
4 Tablespoons chopped fresh parsley
3 Tablespoons sunflower seeds, finely chopped or ground
1/4 cup heavy cream
2 large eggs
3 Tablespoons olive oil
2 (10 ounce) packages ready-to-use spinach, coarsely chopped
1 cup grated white cheddar/mozzarella cheese mixture.
Directions
Preheat oven to 350F.
Lightly grease a baking dish with butter.
In medium bowl mix together diced onion, feta, Edam, parsley, sunflower seeds, cream and eggs.
Heat oil in large pot over medium-high heat.
Add spinach; sauté until wilted and juices evaporate, about 3 minutes.
Transfer spinach to strainer and drain well liquid.
Let spinach cool slightly and stir into your other mixture.
Transfer to a baking dish.
Sprinkle with mozzarella/cheddar blend.
Bake until heated through, about 15-25 minutes so cheese is browned and slightly crunchy.
Garnish with any extra parsley.