Baked Sweet Onion Rings Recipe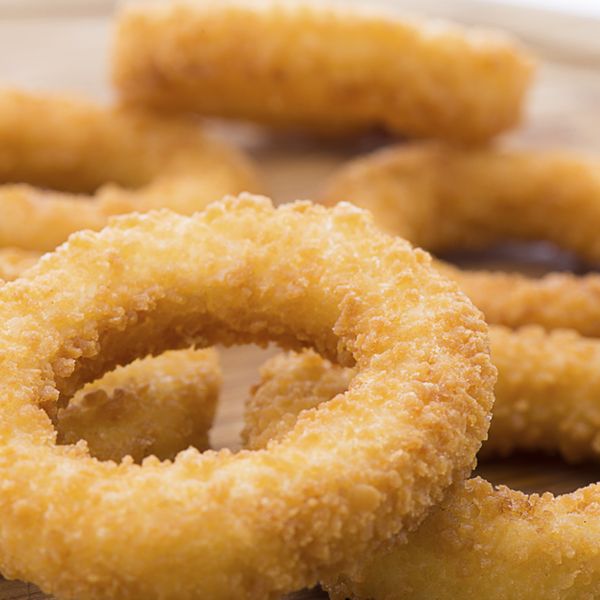 Tender on the inside and crunchy on the outside, these onion rings are baked in the oven for a healthier but delicious option.
Ingredients
2 large sweet onions, cut into 1/2 inch thick rings
3-4 cups buttermilk
4 egg whites
2/3 cup all purpose flour
3/4 cup ground cornmeal
1 cup panko bread crumbs
3/4 teaspoon salt
1/2 teaspoon pepper
1/2 teaspoon paprika
nonstick cooking spray like olive oil spray or coconut oil spray
Directions
Cut onion rings into rounds and submerge in buttermilk. Cover with plastic wrap or a tight fitting lid and refrigerate for 4-12 hours or even over night.
The buttermilk will tenderize the onions.
After soaking the onions, remove them from the refrigerator and set aside.
Preheat oven to 425ºF
Using parchment paper or tin foil, line two baking sheets.
Beat the egg whites in a medium bowl and set aside.
In a different large shallow dish, combine the flour, cornmeal, panko bread crumbs, and the seasoning. mix together until combined.
Working in a assembly line style, remove an onion ring from the buttermilk, dip it in the egg whites, then submerge it in the bread crumb mixture.
Be sure to well-coat the onion with breadcrumbs.
Lay the breaded onion ring in a single layer on the prepared baking sheet.
Repeat this process with the remaining onions.
After you have finished breading the onions, spray them with the nonstick spray. This will help them to crisp.
Bake each sheet of onions for an initial 15 minutes.
After 15 minutes, remove the sheet from the oven and flip each ring over using tongs. Spray the other side with nonstick spray.
Return the onions to the oven and bake for another 10-15 minutes, depending on your desired level of brownness.
Allow the onion rings to sit out for 10 minutes before serving.