Baked White Fish Fillets Recipe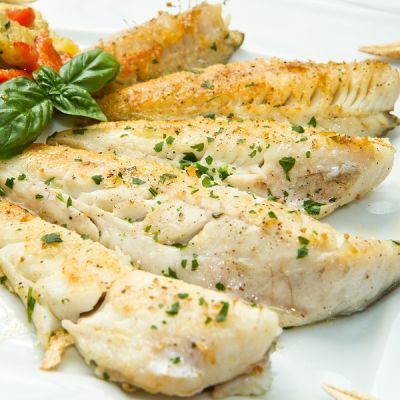 This baked white fish recipe is very easy to prepare and has a perfect combination of herbs and spices to season the fish without being overpowering.
Ingredients
Serves 4
4 cod fillets
1/4 cup butter, melted
1 Tablespoon fresh tarragon, finely chopped
1 teaspoon fresh basil, finely chopped
1/2 teaspoon salt
1 teaspoon paprika
1 lemon, sliced
4 Tablespoons cracker crumbs, finely crushed
Directions
Preheat oven to 350 degrees F.
Line a baking dish with aluminum foil or parcment paper.
Place the sliced lemon onto the bottom of the pan.
Place the fish fillets on top of the lemon.
Melt the butter and pour over the fish.
Sprinkle on the tarragon, basil, salt, pepper and paprika
Sprinkle on the finely crushed cracker crumbs.
Place into the preheated oven and bake for 20-30 minutes or until the fish is cooked through.
Remove from the oven.
Serve and season to taste with salt and pepper.