Baklava Bites Recipe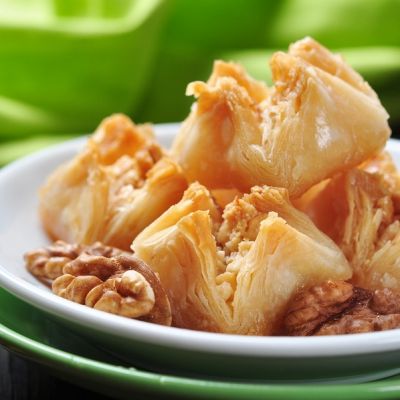 This baklava recipe is made with pre-make phyllo dough, so it is not that difficult to prepare and will dissapear quickly.
Ingredients
Baklava
1/2 cup butter
1/2 cup honey
1 Tablespoon lemon juice
1/4 teaspoon ground cinnamon
3 cups chopped walnuts
5 sheets frozen phyllo dough, thawed ( 18x14-inch)
1/2 cup melted butter
Glaze Ingredients
1 Tablespoon butter, softened
1 Tablespoon honey
Makes about 24
Directions
Preheat oven to 350 degrees F.
Line a couple of baking sheets with parchment paper.
In a small pot melt butter. Whisk in honey, lemon juice, and cinnamon. Continuing heating over medium heat until mixture has thickened (about 18 to 20 minutes). Remove from heat. Mix in walnuts so they have a nice coating. Let cool completely.
Brush melted butter in between each lair of phyllo and stack them on top of each other. Cut into 2 inch squares. Place a bit of walnut mixture into the middle of each square and fold in the corners.
Place each folded up square onto baking sheets and bake for 8 to 10 minutes or until golden brown. Set to cool.
Glaze
Melt together butter and honey until smooth, brush over baked baklava. Serve.