Banana Cake With Pecans And Maple Syrup Recipe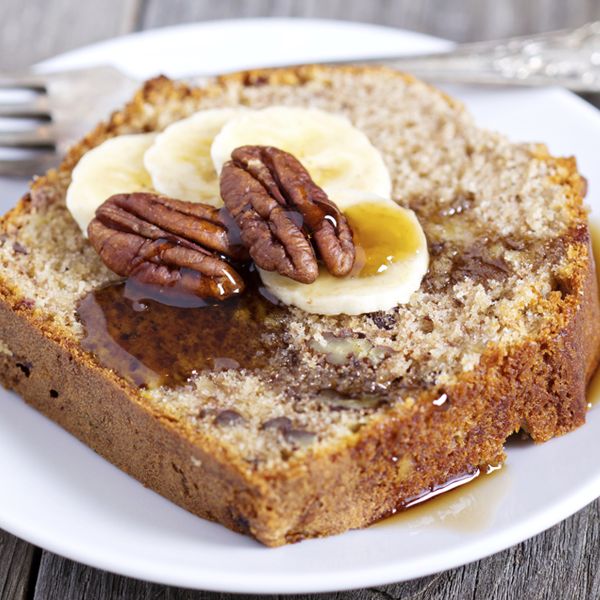 This moist and nuttybanana cake recipe is a comforting treat for afternoon tea with family or friends.
Ingredients
Serving Size – (1) 9 x 5 inch loaf cake
2 cups all purpose flour
1 1/2 teaspoon baking soda
1/2teaspoon salt
4 bananas, overripe
1 cup sugar
3/4 cup (1 1/2sticks) unsalted butter, melted and cooled
2 large eggs
1 teaspoon pure vanilla extract
1/2cup pecans, finely chopped.
Garnish:
1/4 cup pecans, un-chopped; for serving.
1 banana; for serving
1/4 cup maple syrup; for serving
Directions
Preheat oven to 350ºF.
Lightly grease, or line with baking paper, a 9 by 5-inch loaf pan.
In a large bowl, combine the flour, baking soda, and salt and set aside.
In a separate bowl, mash bananas with a fork,or whip with an electric mixer.
Add sugar and blend for 3 minutes to create light and fluffy banana 'cream'
Add the melted butter, eggs, and vanilla and beat well, scraping down the sides of the bowl.
Add the dry ingredients to the banana mixture and mix until incorporated, being careful not to over blend.
Fold in the nuts.
Pour the batter into the prepared loaf pan, and gently spread evenly through the pan.
Bake for about 50 minutes to 1 hour, or until golden brown and a toothpick inserted into the center of the cake comes out clean. Continue baking for 5 minute intervals if the toothpick is still moist after testing the cake.
Allow the cake to cool in the pan for 10 minutes and then turn out onto a wire rack to cool completely before slicing.
To Serve
Slice the banana cake into 1" thick slices.
Arrange on individual plates, and top with a few slices of banana, sprinkle 2-3 whole pecans and drizzle with maple syrup. Delish!!