Banana Oatmeal Chocolate Chip Muffins Recipe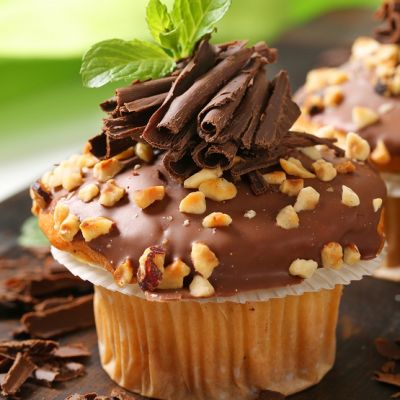 These banana oatmeal chocolate chip muffins are topped with a delicious milk chocolate topping and chopped walnuts.
Ingredients
MUFFINS
1/4 cup granulated sugar
1/2 cup butter
2 eggs
5 ripe bananas
1/4 cup honey
1 teaspoon vanilla
1 cup all-purpose flour
1/2 cup whole wheat flour
1 teaspoon baking powder
1 teaspoon baking soda
3/4 teaspoon salt
1 teaspoon cinnamon
1 cup oatmeal
1 cup chocolate chips
CHOCOLATE COATING
3 cups milk chocolate melting wafers
2 cups chopped walnuts
(Makes 20-24)
Directions
MUFFINS
Preheat oven to 375F
Line a cupcake pan with cupcake liners
In a mixer mix together sugar, butter, eggs, bananas, honey and vanilla. Once well incorporated, add in both flours, baking powder, baking soda, salt, and cinnamon. Mix slowly and once incorporated, beat for about 2 minutes. Add in oatmeal and chocolate chips, mix slowly until incorporated.
Fill prepared muffin cups 3/4 of the way, bake for 18 - 20 minutes, or until an inserted toothpick comes out clean. Set aside to cool.
CHOCOLATE COATING
Melt chocolate in a double boiler, or a pot filled with water and a bowl, on low heat.
Once chocolate is melted dip the top of cooled muffin in chocolate, and sprinkle with chopped walnuts before chocolate sets.
Garnish with chocolate curls and fresh mint