Banana Pancakes Recipe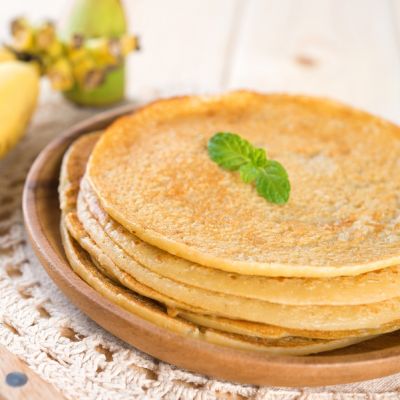 This banana pancakes recipe allows a mom to sneak in a little extra nutritional value when making the kids breakfast, plus they taste extra yummy.
Ingredients
1 cup all flour
1 Tablespoon sugar
2 teaspoons baking powder
1/4 teaspoon salt
1 egg, beaten
1 cup milk
2 Tablespoons vegetable oil
1 ripe bananas, mashed nice and smooth
Directions
If you have a blender, you can just combine all the ingredients, turn on the blender for a 2-3 minutes until you have a smooth batter.
Or if not, in one bowl, stir together the flour, sugar, baking powder and salt.
In separate bowl, mix together egg, milk, oil and well mashed banana.
Stir flour mixture into banana mixture. This method will be more lumpy than if you did in a blender.
Pour 1 tablespoon of oil onto a frying pan and heat the oil over medium high heat.
Use a piece of paper towel crumpled into a ball to spread the oil evenly onto the surface. Don't burn your fingers.
Pour or scoop batter onto pan, using about 1/4 cup for each pancake. The pancakes shown are thinner and more crepe like, but you can do fat or thin pancakes.
If the batter is too thick when you make pancakes, you can always stir in a little extra milk.
Cook until pancakes are golden brown on both sides.