Banana Pumpkin Bread Recipe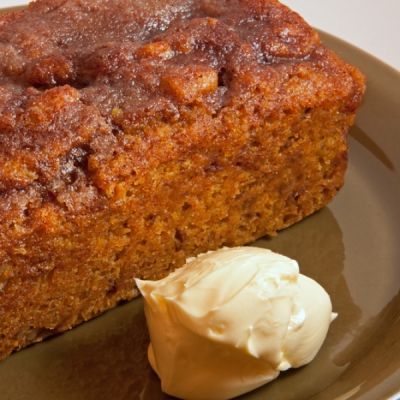 A very yummy recipe for banana pumpkin bread, Great served with whipped cream.
Ingredients
4 bananas
1 cup canned pumpkin puree
3 eggs
1 1/2 cups granulated sugar
1 cup oil
5 cups flour
1 tablespoon baking soda
2 teaspoons cinnamon
1/2 teaspoon ground cloves
2 cups chopped nuts
Directions
Preheat oven to 350 degrees F. Grease 3 loaf pans and set aside.
Puree the bananas and pumpkin in stand mixer, add eggs and sugar, mixing well, add oil.
Stir in flour, baking soda, cinnamon, cloves and nuts, mixing just until blended.
Pour into prepared pans and bake for 50 to 60 minutes. Remove from oven and let cool for 10 minutes.
Remove from pans onto a wire rack and cool completely.