Banana Whipped Cream Pie Recipe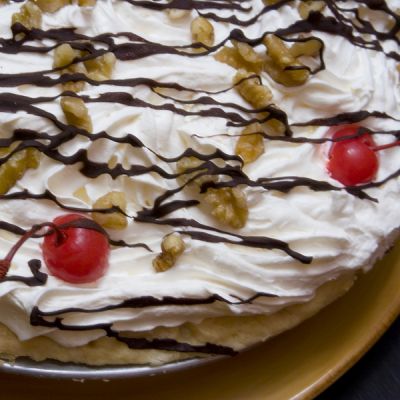 This beautiful pie has fresh bananas, vanilla custard, fresh whipped cream in a baked pie crust. The garnish of walnuts, chocolate drizzle and cherries add another dimension of flavors and textures to the pie!
Ingredients
Pastry for One Pie Crust (see below)
Banana Filling:
3 ripe bananas, peeled and sliced 1/4 inch thick
1 1/2 cups whole milk
1/2 cup granulated sugar
4 Tablespoons cornstarch
2 eggs
1/4 teaspoon salt
3 Tablespoons butter
1 teaspoon pure vanilla extract
Topping:
1/2 Tablespoon cold water
1/2 teaspoon unflavored powder gelatin
1 cup heavy whipping cream, chilled
3 Tablespoons confectioners'sugar
1 teaspoon pure vanilla extract
Chocolate Drizzle
1/2 cup dark chocolate chips
Garnish:
1/2 cup walnut pieces
maraschino cherries
Directions
Pie Crust
Just type in 'Easy Pie Crust' into the search bar on the Grandmother's Kitchen website and you will access a pie crust recipe if you do not already have one.
Filling
Preheat the oven to 375F.
Roll one portion of pie crust to fit a 9-inch pie plate. Poke the bottom of the crust in a few places with a fork.
Place aluminum foil over the crust and fill the pie with pie weights, or dried beans. Place into the preheated oven and bake for 20 minutes.Remove from the oven and set aside to cool.
Once the crust is cooled, remove the weights. Arrange the sliced bananas evenly in the bottom of the crust.
In a medium size saucepan stir together the milk sugar, cornstarch, eggs and salt. Whisk together to combine then turn on to medium heat and cook stirring frequently until it simmers and then thickens.
Remove the pan from the heat and stir in the butter and vanilla.
Pour the custard through a strainer over the bananas in the pie crust. You will want to strain it to remove any lumps.
Let cool to room temperature, then cover with a piece of plastic wrap and place into the refrigerator. You can cool overnight if you want to make the day ahead, or for at least a few hours.
Topping:
Place a metal or glass mixing bowl and the beaters into the freezer to chill for 15 minutes.
Place cold water in a small bowl. Sprinkle gelatin over the water and let sit for 5 minutes. Microwave for 10 seconds to melt. Set aside while you whip the cream.
Pour the heavy cream into the chilled bowl and whip the cream on medium-high speed. Once the cream starts to thicken, add the confectioners' sugar, vanilla, and gelatin, and continue whipping until soft peaks form.
Chocolate Drizzle:
In a small pot in a pan of boiling water or in a double boiler on low, melt the chocolate chips until smooth.Shut off.
Either dollop or pipe the whipped cream on top of the pie.
Drizzle with chocolate, and garnish with walnuts and cherries. Place into the refrigerator for 30 minutes before cutting.