Barbecue Buffalo Chicken Wings Recipe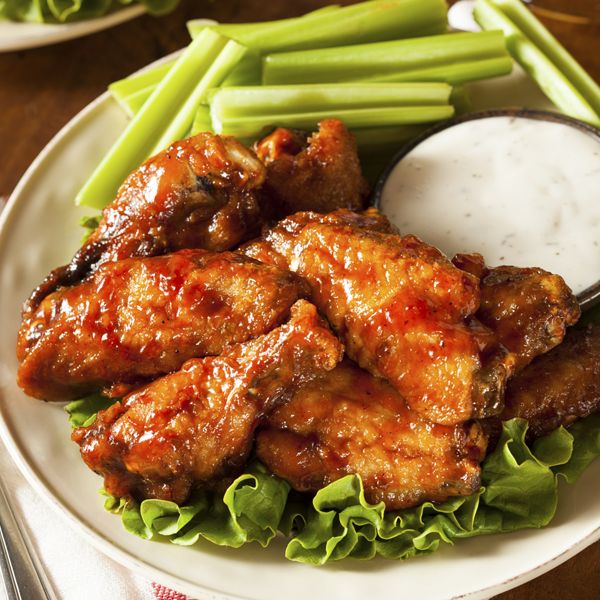 Soaked in buttermilk, these spicy wings are tender, moist and fool proof. Serve with a side of blue cheese dressing for the ultimate combo.
Ingredients
Blue Cheese Dressing:
1/2 cup plain whole-milk yogurt
1/2 cup mayonnaise
1 Tablespoon white wine vinegar
1/2 teaspoon kosher salt
1/4 teaspoon granulated sugar
pepper to taste
1/2 cup crumbled blue cheese
Dash Worcestershire sauce (optional)
Wings:
1 1/2 cups mild to medium hot sauce, divided
1/2 cup buttermilk
1/2 teaspoon garlic powder
3 pounds chicken wings
Vegetable oil, for grilling
4 Tablespoons butter, melted
Directions
Blue Cheese Dressing
Combine the yogurt and mayonnaise in a small mixing bowl and stir until smooth.
Add the vinegar, salt, sugar, and pepper. Taste and adjust seasoning if necessary.
Stir in the blue cheese and Worcestershire sauce and mix until well combined.
Refrigerate the dressing until ready to serve the chicken wings.
Chicken Wings
Combine 1 cup of the hot sauce, the buttermilk, and garlic powder bowl and stir to combine.
Add the wings and gentle stir until chicken wings are evenly coated.
Marinate chicken wings in the refrigerator for 2 hours or up to 12 hours. Turning once in a while to evenly marinate.
Preheat your grill to medium high heat (approx. 375F to 425F).
When heated, rub grill using a clean rag or paper towel dipped in vegetable oil, to prevent chicken from sticking.
Remove the wings from the marinade, and allow excess marinade to drip off.
Place the wings on the grill in a single layer, separated by 1/2 inch to prevent them from sticking together. Depending on the size of your grill, you may need to cook them in batches.
Close the lid of the grill and cook until they're no longer pink near the bone, about 25 minutes total.
Be sure to flip them occasionally. The skin will be slightly charred, this is ok.
While the wings are cooking, combine the remaining 1/2 cup hot sauce and the melted butter in a large bowl and set aside.
Once the wings are fully cooked, add them to the bowl with the remaining hot sauce and butter.
Toss to coat.
Serve immediately with the blue cheese dressing.