Barbecued Chicken Legs Recipe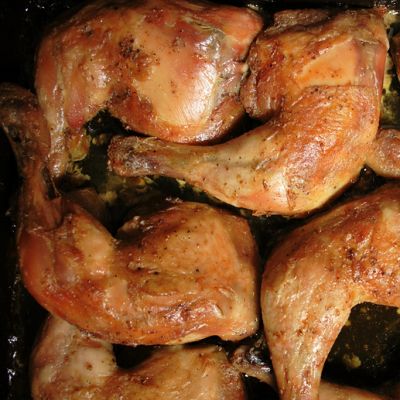 This barbecued chicken legs recipe is actually done in a frying pan. The chicken legs are cook on low and slow and are smothered in delcious sauce.
Ingredients
6 chicken legs
1 Tablespoon olive oil
2 large garlic cloves, minced
1/2 cup water
1/4 cup ketchup
2 Tablespoons soy sauce
1 Tablespoon liquid honey
(3-4 servings)
Directions
Choose a large non stick frying pan. Heat the oil along with the drumsticks over medium high heat.
Saute for about 10 minutes, until the chicken has browned on all sides. Add more oil if the chicken is sticking to the pan.
Turn the heat to low and add the minced garlic. Cook with the chicken for one minute.
In a small bowl, stir together the water, ketchup and soy sauce. Pour over the chicken and gently stir in.
Cover the pan and simmer on low for 30 minutes.
Turn the chicken pieces over ever 5 minutes and cook until the chicken is cooked. Check by taking a piece out, placing it onto a plate, cutting in with a knife and making sure there is no pink showing.
When the chicken is cooked, remove from the frying pan and place onto a serving dish.
Increase the heat on the sauce and with the lid off, bring to a boil, stirring frequently until the sauce thickens. Add the honey and stir in and cook for another minute. Do a taste test and season with salt and pepper to your taste.
Pour the sauce over the chicken and serve.