Battered Chicken Strips Recipe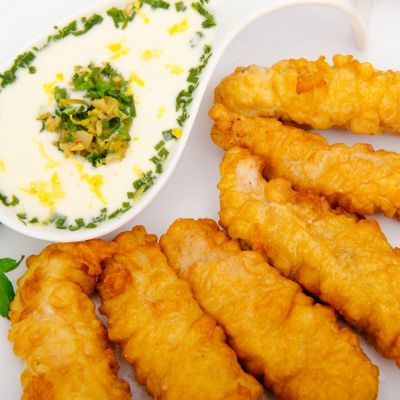 This battered chicken strip recipe uses such simple ingredients and produces tasty moist chicken on the inside and crispy batter on the outside.
Ingredients
1 large egg
3/4 cup beer
1 cup all purpose flour
1 teaspoon baking soda
1 teaspoon salt
black pepper, to taste
3 boneless skinless chicken breast halves
1 1/4 cups vegetable oil
Serves 4-6
Directions
Beat the egg in a bowl, stir in the beer, then the flour, baking soda, salt and pepper. Whisk until smooth.
Cover and let the batter stand for 25 to 30 minutes before using.
Cut the chicken into thin strips, so they will cook through quickly when submerged into the oil.
Pour the oil into a heavy bottom 10 inch skillet and heat the oil over medium heat until it reached 360 degrees F. Use a baking thermometer to check. Don't over heat as the oil will start to smoke and will burn the chicken strips.
Use tongs to hold and dip each chicken strip into the batter. Hold each piece over the bowl and let any excess drip off.
Work quickly and gently lower each piece into the heated oil as it is ready.
The oil is very hot, so be careful not to burn yourself.
Once the chicken strip has been placed into the oil, you need to turn them after about one minute and turn occasionally until they are brown and crispy on the outside and cook right through on the inside.
Remove each piece with tongs and transfer to a plate lined with paper towels.
You will be cooking in batches as you go through the process of dipping in batter and submerging in the oil.