Beef Chili With Cheese Recipe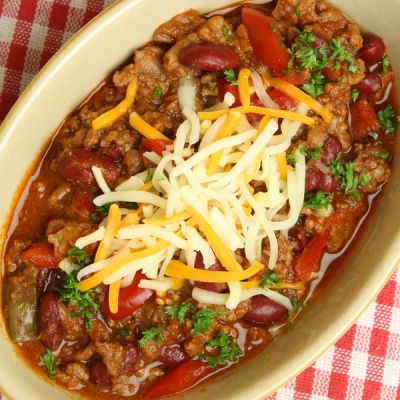 A Hearty and flavorful recipe for beef chili with cheese. Great served with buns.
Ingredients
1 Tablespoon vegetable or olive oil
1 1/2 cups onion, diced
1 red bell pepper, chopped
1 green bell pepper, diced
2 lbs ground beef
1 large can tomato sauce
1 large can kidney beans, drained and rinsed
1 small can pinto beans, drained and rinsed
1/8 teaspoon cayenne pepper
1/2 teaspoon dried oregano
1/2 teaspoon black pepper
1 teaspoon salt
1 1/2 teaspoons cumin
1/4 teaspoon chili powder
Garnish
1 cup cheese, grated
1/8 cup parsley, chopped fine
Serves 6-8
Directions
Place oil into a large deep pot and heat over medium temperature.
Add the onion, red and green pepper and cook until tender.
Add the ground beef and cook over medium-high heat until evenly brown. Break into crumble texture while it cooks. Drain fat.
Stir in tomato sauce, beans, cayenne pepper, oregano, ground black pepper, salt, cumin and chili powder.
Bring to a boil, then reduce heat to low. Simmer for 2 hours.
Garnish with parsley and grated cheese to serve.