Beef Stir Fry Recipe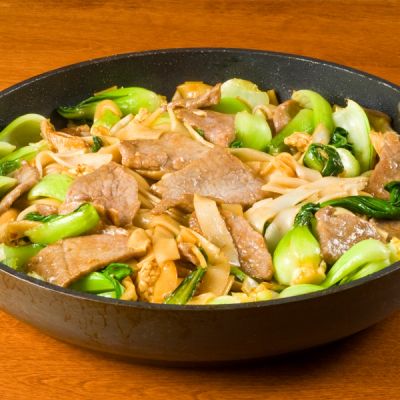 This delicious beef stir fry is quick and easy to prepare. We show it being served with rice noodles. It is also great served with white rice.
Ingredients
1 pound lean sirloin steaks, sliced into very thin strips
2 teaspoons cornstarch
4 Tablespoons peanut oil, divided
1 teaspoon sesame oil
1 pound baby bok choy washed ah chopped into quarters lengthwise
1 bunch green onion, thinly, diagonally sliced
1 1/2 Tablespoons peeled minced fresh ginger
2/3 cup beef broth
1 Tablespoon fish sauce
1 teaspoon sugar
Directions
In a large bowl, mix the beef and cornstarch, until the meat is lightly coated all over.
Using either a wok or a large skillet, heat 2 tablespoons peanut oil with high heat.
Work in batches.
Add some beef in a single layer and cook, without stirring until meat begins to turn brown on the bottom. Cook for 2 minutes; turn over and cook until second side browns, about 2 minutes, then transfer the cooked beef to a large plate.
Repeat until all the meat is cooked.
Using the same skillet, Heat the remaining 2 tablespoons peanut oil and 1 tsp sesame oil over medium-high heat.
Add the baby bok choy, green onions and ginger; saute vegetables about 2 minutes.
Add the broth, fish sauce and sugar and bring to a boil.
Dump the cooked beef into skillet and cook until sauce is slightly thickened, about 1 minute.
This dish is very nice served over rice noodles or rice.
Serve while hot.