Beef Stuffed Bell Peppers Recipe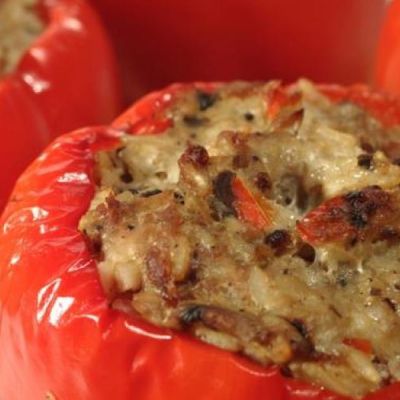 A stuffed red pepper recipe filled with Mexican flavor.
Ingredients
1 Tablepsoon vegetable or olive oil
1 small yellow onion, chopped
1 lb ground beef
1/2 cup salsa sauce
1 (19oz) can diced tomatoes, divided
1 (1 1/4 oz) package taco seasoning mix
2 cups cooked white or brown rice, cooled
2 cups shredded cheddar cheese, divided
1 egg, beaten.
4-6 sweet red bell peppers
Serves 4-6
Directions
Preheat oven to 375°F.
Line a baking dish large enough to hold the peppers with parchment paper or aluminum foil.
Lightly grease with a drizzle of oil.
Heat the 1 Tablespoon of oil in a large skillet over medium heat.
Add the onions and cook a few minutes until tender.
Add the beef and cook, breaking apart to a crumble texture until browned throughout.
Spoon off any fat.
Stir in the salsa sauce, 1/2 of the canned diced tomatoes and the package of taco seasoning mix.
Bring to a boil, then turn down to a simmer for 10 minutes. Shut off.
Place the cooled cooked rice into a large mixing bowl. Stir in half of the shredded cheese and the beaten egg. Add meat stuffing mixture and combine well.
Do a taste test and season with salt and pepper
to taste.
Wash the peppers and cut the tops off, remove seeds and membrane.
Stuff the peppers with the meat stuffing mixture.
Spread the remaining diced tomatoes onto the bottom of the baking dish.
Place the stuffed peppers into the dish.
Divide and spinkle the remaining cheddar cheese onto the tops of the pepper.
Cover the baking dish with aluminum foil.
Place into the preheated oven and bake for
40-45 minutes or until the peppers are soft.
Delicious served with sour cream and additional salsa.