Beetroot Salad Recipe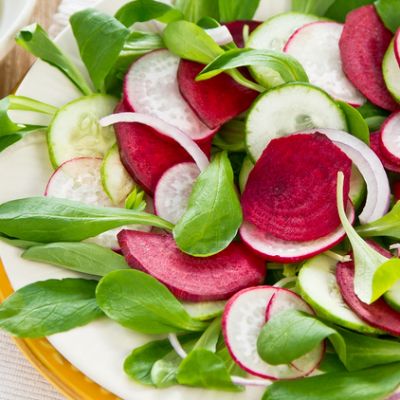 This beetroot salad recipe calls for young, fresh vegetables that have a fresh sweet quality to their flavor.
Ingredients
Salad
2 small raw, young beetroots, peeled, wash and thinly sliced (young will be sweet, older beetroot is bitter)
1 small onion, finely sliced
1 medium sized slim cucumber
4 radishes
2 cups young greens
Dressing
3 Tablespoons olive oil
1 lime or lemon, (the juice of)
salt and pepper to taste
(Makes 2 servings)
Directions
Arrange the greens on the bottom layer.
Working in circle pattern, arrange the beetroot, cucumber, radish and onion decoratively on the plate.
Drizzle on the dressing when you are ready to eat the salad.