Best French Onion Soup Recipe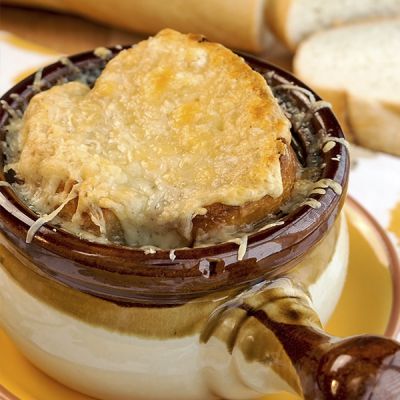 This best french onion soup is a work of love and takes some time to prepare but the flavor is fantastic. This is a large recipe amount, so you may have some leftover soup which freezes well.
Ingredients
5 lbs onions, unpeeled
1/2 cup (1 stick) butter
1 1/2 teaspoons black pepper, freshly ground
2 Tablespoons paprika
1 bay leaf
7 (16 ounce) cans beef broth, divided
1 cup dry white wine (optional)
3/4 cup all purpose flour
Kitchen Bouquet or caramel coloring (optional)
2 teaspoons salt
French baguette
Swiss cheese or Gruyere cheese
Directions
Prepare the onions first. Use a food processor if you have one as it will make it much quicker and easier.
Peel onions and slice 1/8 inch thick.
Melt the butter in a large stockpot. (No smaller than 6 quart size, but larger is better)
Add the sliced onions and cook, uncovered, over very low heat for 1 1/2 hours. Stir occasionally.
Long cooking time is essential as it makes the onions sweet and mellow.
At the end of the 1 1/2 hours, stir in the pepper, paprika and bay leaf and saute over low heat for 10 minutes more. Stir frequently.
Pour in 6 (16 ounce cans) of broth and the white wine. Increase heat and bring to a boil.
Dissolve the flour in the one remaining can of broth.
Stir this mixture into the boiling soup.
Reduce heat and simmer slowly for 2 hours.
Adjust color to a rich brown the Kitchen Bouquet or caramel coloring, season with salt to taste.
The soup is tastiest if placed into the refrigerator overnight.
To serve, heat the desired amount of soup on the stove top and pour the hot soup into ovenproof crocks or bowls.
Top with a slice of french baguette bread sprinkled with grated cheese.
Place a cooking sheet on the lowest rack in case you have any drips.
Place the oven proof bowls, under the broiler until cheese melts and bubbles, about 5 minutes.
Be very careful handling.
Serve piping hot.
This makes a large pot of soup, great for a big crowd.