Best Lemon Meringue Pie Recipe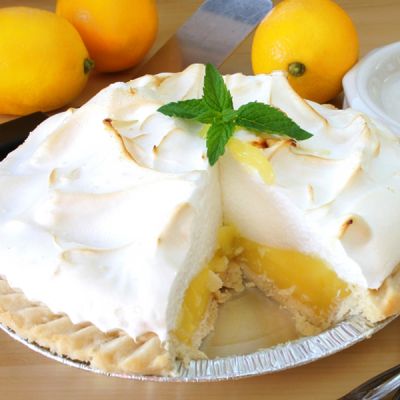 This is is the best lemon meringue pie that you will ever eat.
Ingredients
Crust
1 1/2 cups all purpose flour
1/4 teaspoon salt
1 teaspoon granulated sugar
8 tablespoons cold unsalted butter, cut into small pieces
4 tablespoons ice water
Filling
1 1/2 cups granulated sugar
6 Tablespoons cornstarch
1/4 teaspoon salt
1/2 cup cold water
1/2 cup fresh squeezed lemon juice
3 egg yolks, well beaten
2 Tablespoons butter
1 1/2 cups boiling water
1/2 lemon, grated peel of
2 -3 drops yellow food coloring (optional)
MERINGUE
3 egg whites
1/4 teaspoon cream of tartar
6 Tablespoons granulated sugar
Directions
Pie Crust
Preheat oven to 350 degrees F.
If you are taking the pie to a function, you can use an aluminum disposable plate for convenience. Grease the pie plate with butter.
Combine the flour, salt, and sugar in a large bowl.
Using a pastry blender cut the butter into the dry ingredients until itís in pea-size pieces.
Drizzle in 4 tablespoons of the ice water and mix just until the dough comes together.
Shape the dough into a flat disk, cover it in plastic wrap, and refrigerate for at least 30 minutes.
Roll dough out to fit pie plate.Pierce the bottom.
Bake the pie crust for 20 minutes.
Remove from the oven when ready so you can add the lemon filling.
Lemon Filling
In a saucepan, thoroughly combine the sugar, cornstarch, and salt.
Gradually blend in the cold water and lemon juice.
Stir in the egg yolks.
Add the butter and boiling water.
Bring to a boil over medium-high heat, stirring constantly.
Reduce heat to medium and boil for 1 minute.
Remove from heat and stir in the lemon peel and food coloring.
Pour into baked pie crust.
Meringue
In a large glass or metal bowl, whip egg whites until foamy. Add sugar gradually,and cream of tartar and continue to whip until stiff peaks form.
Spread meringue over pie, sealing the edges at the crust.
Bake at for 12 to 15 minutes.
Cool for 2 hours before serving.