Best Little Mocha Frosted Brownie Muffins Recipe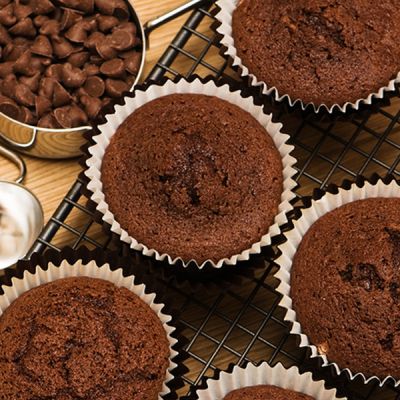 A delicious brownie muffin recipe with frosting.
Ingredients
The Brownie Bites
4 whole1-ounce Squares Unsweetened Chocolate
1 cup (2 sticks) Butter, softened
2 cupssugar
4 wholeLarge Eggs
3 teaspoonsVanilla Extract
1-1/4 cupAll-purpose Flour
1 cup Chocolate Chips
1 cupSemi-sweet Chocolate Chunks
Mocha Frosting
1 lb. powdered sugar
1/2 cup (1 stick) butter
1 teaspoon vanilla
1 teaspoon brewed coffee
3 tablespoons cocoa
Directions
The Brownie Bites
Melt 4 ounces chocolate in a saucepan over low heat. Once its melted, set it aside for 15 to 30 minutes, allowing it to cool, dont use warm.
Using your stand mixer, cream butter and sugar until fluffy. Beat in the eggs two at a time.
With mixer on low, drizzle in the cooled chocolate. Mix until just combined. Next, add in vanilla extract and mix until combined. Add flour and mix until just combined. 4 4 Scrape sides and bottom of bowl and mix for five more seconds.
Add chocolate chips and chocolate chunks and mix for just a few seconds on low, until theyre incorporated.
Generously grease and flour mini-muffin pan. Scoop generous teaspoons of batter into each tin to 2/3 full.
Bake for 10 to 14 minutes, or until set. Remove pans and invert on a cooling rack. Allow brownie bites to cool completely before frosting.
The Mocha Frosting
Let butter soften at room temperature. Beat until smooth in mixer.
Add vanilla, cocoa, and coffee. Once evenly mixed, slowly add powdered sugar.
Mix until smooth and frost your brownie bites.