Black Rice Pudding Dessert Recipe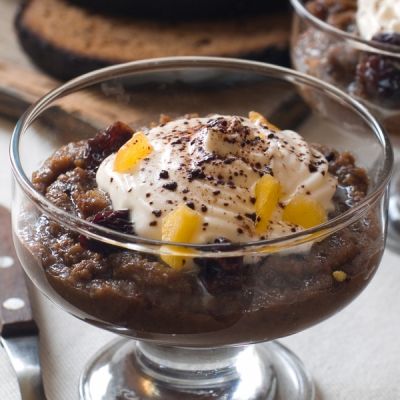 A delicious dairy free and nutrient dense treat.
Ingredients
2 cups black rice rinsed
4 cups almond milk
1 tbsp high quality cocoa powder
Coconut sugar to taste.
1 teaspoon high quality vanilla bean.
1/2 cup dark raisins
1 can coconut milk, refridgerated overnight
cocao powder (to sprinkle)/1/2 cup chopped pineapple (optional)
Directions
Bring black rice to a boil in the almond milk and, vanilla bean until tender, let simmer and add more milk if necessary to achieve a pudding like consistency at the end.
Add sugar, cocoa and raisins and stir to combine.
Serve chilled or warm.
To garnish, open the chilled can of coconut milk and scoop out the top thick section and garnish immediately.
Sprinkle with cocoa powder and chopped pineapple (optional)