Blueberry Chocolate Crust Cheesecake Pie Recipe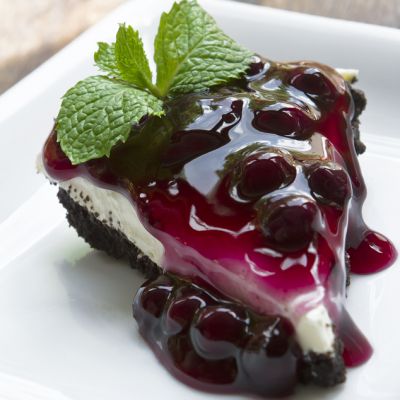 You can tell just by looking how creamy scrumptious this blueberry chocolate crust cheesecake pie is going to taste!
Ingredients
Chocolate Crumb Crust:
1 1/2 cups chocolate crumbs
2 Tablespoon granulated sugar
1 stick of butter (1/2 cup), melted
1/8 teaspoon cinnamon
Cheesecake:
16 ounces cream cheese,at room temperature
1/2 cup sour cream
2 eggs, beaten
1 teaspoon pure vanilla extract
1/2 cup granulated sugar
Blueberry Filling:
2 cups fresh blueberries
1/2 cup water
1/3 cup sugar
1 1/2 Tablespoons cornstarch
2 Tablespoons cold water
Directions
Crust:
Preheat oven to 350 degrees.
Grease a glass pie plate with butter.
Melt the butter is a small saucepan over low heat. Shut off.
Mix together crumbs, sugar and cinnamon. Mix the butter in and form a crumbly texture.
Press into the pie plate. Place into the preheated oven and bake for 8-10 minutes.
Remove and place on a cooling rack.
Reduce the oven temperature to 325F.
Filling:
Place the cream cheese in a large mixing bowl and using an electric mixer, beat until smooth.
Add the sour cream, vanilla and sugar and mix in to combine.
Add the eggs and mix in until well combines.
Transfer to the prepared pie crust.
Place into the preheated oven and bake for 40-45 minutes.
The center should be jiggly. The outside edges by the crust should be set, but not brown.
Remove and place onto a cooling rack.
Cool to room temperature, then place into the refrigerator. Cover with a piece of plastic wrap and let cool before putting the blueberry topping for at least an hour.(*see below how to make the sauce)
Remove from the refrigerator, pour the room temperature blueberry sauce on top, cover again, place into the refrigerator and let set at least 4 hours or overnight.
Sauce:
Place the berries, water and sugar into a heavy bottom saucepan. Bring the mixture to a boil. As soon as it starts to boil turn down to low. Simmer for about 3-4 minutes stirring as needed so it does not stick to the bottom of the pan.
Meanwhile; stir the cornstarch into the 2 tablespoons of water. Stir the cornstarch mixture into the blueberry mixture.
Turn the heat back up and bring to a boil, stirring the whole time. Cook for a minute or so. The mixture will thicken quickly. Shut off, remove from heat, transfer to a glass bowl and let cool to room temperature.
Remove the chilled cheesecake pie from the refrigerator, pour the blueberry sauce on top.