Blueberry Glaze Cheesecake Recipe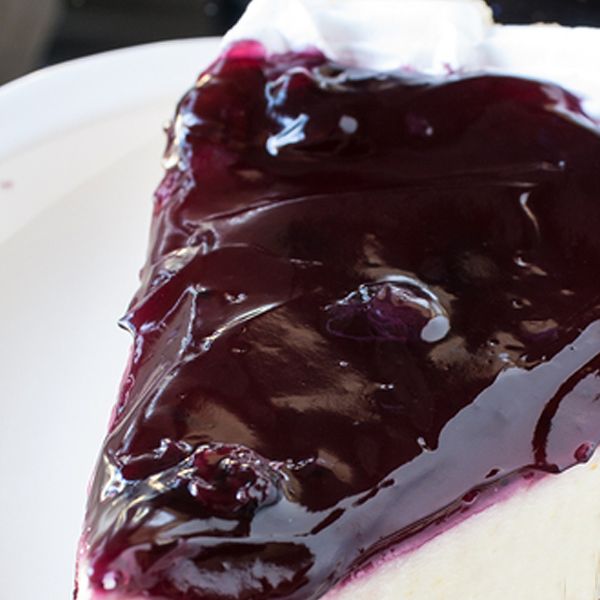 A delicious baked cheesecake with a blueberry glaze.
Ingredients
Crust
2 cups finely ground cinnamon graham crackers (about 30 squares)
1/2 tsp cinnamon
1 stick unsalted butter, melted
Cheesecake
(2) 8-ounce blocks cream cheese (1 pound), softened to room temperature
3 eggs
1 cup sugar
1 pint sour cream
1 lemon, zested (save lemon for blueberry sauce)
1 tsp pure vanilla extract
Blueberry Sauce
2 pints blueberries (fresh or frozen)
1/4 cup water
1 lemon, juiced
1/4 cup sugar
1/2 tsp pure vanilla extract
2 Tablespoons cornstarch with 1/8 cup cold water
Directions
Crust
Preheat oven to 325 degrees F.
Grease an 8-inch spring form pan.
Stir together crust ingredients in a small bowl. Pour the crumbs into the pan and press into the bottom and one inch up the sides using a metal measuring cup. Wrap the bottom of the pan with foil (this will keep the water out since you will bake using a water bath).
Filling
In a large stand mixer, beat the cream cheese for 1 minute until free of lumps.
Add the eggs, one at a time, scraping down the sides as needed.
Add the sugar and beat for 2 minutes until smooth.
Add the sour cream, lemon zest, and vanilla. Mix just until combined. Do not over beat air into the batter.
Pour the filling into prepared crust.
Place into the bottom of a roaster pan and fill with hot water halfway up the sides of the spring form pan to create a water bath. This will prevent the cheesecake from cracking on top during the baking process.
Bake for 45-55 minutes.
The cheesecake should still be slightly jiggly in the middle as it will set up in the refrigerator. Remove from the oven, carefully lift pan out of roaster, and remove foil. Let cool on a wire rack for 30 minutes.
Cover with foil and refrigerate for at least 4 hours to overnight. When ready to serve, run a knife or thin spatula around the edges before releasing the spring form pan from the sides.
Blueberry Sauce
In a medium sauce pan, add all ingredients except the cornstarch.
Simmer on medium low heat for 5 minutes. Make the corn starch slurry to thicken by stirring together 2 Tablespoons corn starch into 1/8 cup cold water in a cup.
Add to the blueberry sauce and stir until thickened. Let cool, then refrigerate until ready to serve.
Spoon over the cheesecake. Serve with whipping cream if desired.