Blueberry Oatmeal Squares Recipe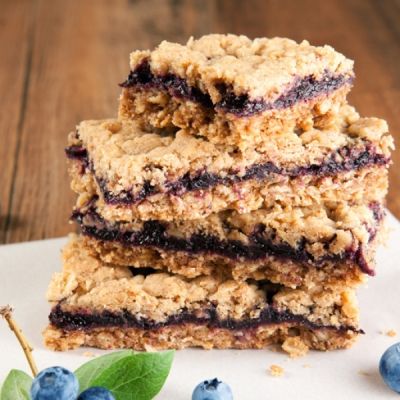 A Delicious recipe for blueberry oatmeal squares, A perfect snack or serve with vanilla ice cream for a yummy dessert.
Ingredients
Crust Topping:
1 1/2 cups all purpose flour
1 1/2 cups old-fashioned oatmeal
3/4 cup brown sugar
1/2 teaspoon baking powder
1/4 teaspoon salt
1/2 teaspoon cinnamon
1 cup cold butter, cut to small pieces
Filling
3 1/2 cups blueberries
1/2 cup granulated sugar
3 Tablespoons cornstarch
1 Tablespoon fresh lemon juice
Directions
Preheat oven to 350˚F.
Butter a 9x13 inch baking dish.
Line bottom with a sheet of parchment paper;
set aside.
Topping:
In a food processor, put the flour, oatmeal, brown sugar, baking powder, salt and cinnamon; pulse for 20 seconds.
Add in the butter, and pulse until crumbly.
Filling:
Toss together the blueberries, sugar, cornstarch and lemon juice.
Spread half of the oatmeal mixture on the bottom of the pan.
Top evenly with the blueberry mixture then sprinkle with the remaining oatmeal mixture over blueberries and press down slightly.
Chill in the refrigerator for 30 minutes
Remove and place into the preheated oven.
Bake for 30-40 minutes, or until the fruit starts to bubble.
Remove and place onto a cooling rack.
Cool completely before cutting into squares.