Braised Beef Recipe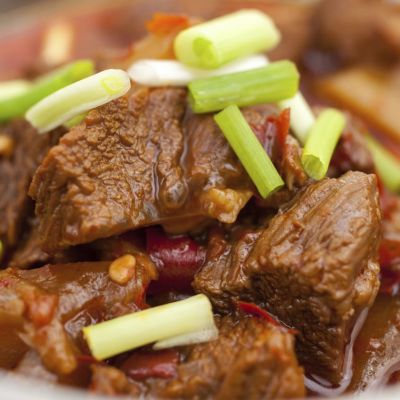 This braised beef is a combination of sweet and savory and is delicious served over a bed of hot rice.
Ingredients
2 lbs beef, cut into 1 inch cubes
2 Tablespoons butter
2 cups beef consume
1/3 cup red wine
1/2 cup cranberry juice
1 Tablespoon soy sauce
2-3 cloves garlic, minced
1/4 teaspoon onion salt
1 Tablespoon cornstarch
1 cup red pepper, diced
1/4 cup water
1/2 cup green onions, cut
Directions
Melt butter in a large skillet over medium-high heat, Add meat and brown meat on all sides.
Add beef consume, wine, cranberry juice,red pepper, garlic, onion salt, and soy sauce. Heat to boiling.
Reduce heat to low, cover and simmer 2 hours or until meat is very tender.
In a separate small bowl, blend cold water and corn starch.
Stir gradually into meat mixture.
Cook, stirring constantly until mixture thickens and boils.
Boil and stir one minute.
Garnish with green onions.
Serve over rice or noodles.