Breaded Butterfly Prawns Recipe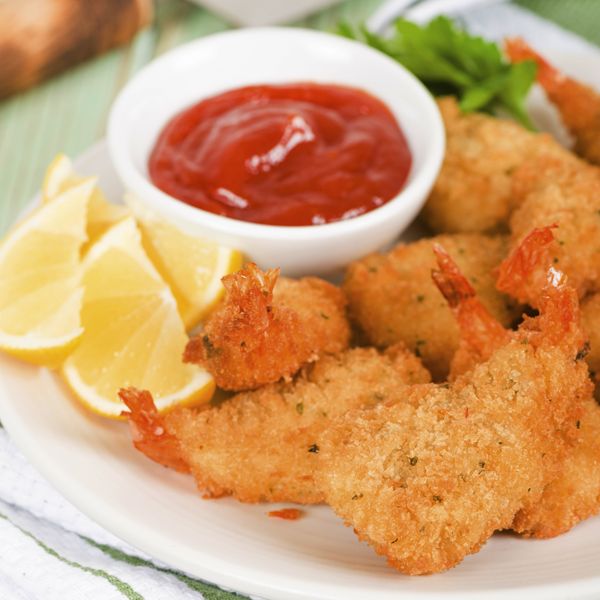 These delicious crispy butterfly prawns are great as a starter or part of a main meal.
Ingredients
1 pound medium prawns, head removed, shelled, and deveined
1/2 teaspoon garlic powder
1/2 teaspoon ground black pepper
1 teaspoon salt
1/2 teaspoon paprika (optional)
3/4 cup all purpose flour
2 eggs, beaten
1 cup Panko bread crumbs
3 cups cooking oil
1/2 cup seafood sauce
Directions
To butterfly the prawns, run a knife lengthwise along the back or front of the prawn. Be sure to slice more than halfway through. Gently open the prawn to form a butterfly shape. Do not remove the tail.
Next, season the prawns by sprinkling with garlic powder, pepper, salt, and paprika, if using.
Put a deep skillet over medium high heat and add the oil. Be sure to keep an eye on the oil to make sure is does not get too hot.
While the oil is heating, dredge a prawn in flour, then dip it in the beaten egg.
Dip the prawn back in the flour and roll around to evenly coat. Finally, dip the flour coated prawn back to the egg mixture and then then into the Panko breadcrumbs. Again, roll around to evenly coat.
Set the prawn aside on a tray and continue this process until all the prawns are breaded.
When ready to cook, deep fry the prawns in batches for about 3 to 5 minutes. The prawn should turn golden brown.
Once cooked, remove the prawns from the oil and place on a plate lined with paper towel. Continue until all the prawns are cooked.
Serve hot with a small dish of seafood sauce for dipping.