Breaded Popcorn Shrimp Recipe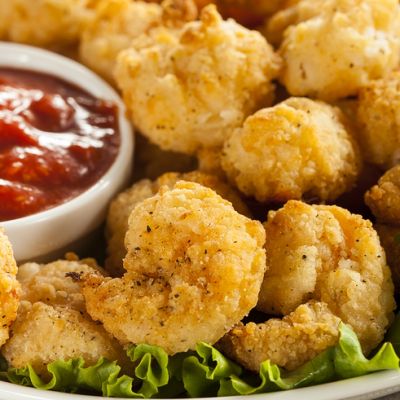 This breaded popcorn shrimp recipe is a baked version. The shrimp are quick to prepare and to cook and the cleanup is easy.
Ingredients
1 1/2 lbs. peeled deveined medium shrimp
1 large egg
2 Tablespoons milk
1/2 cup seasoned bread crumbs
1/3 cup grated parmesan cheese
1/4 teaspoon salt
1/4 teaspoon pepper
Directions
Preheat oven to 350 degrees. Line a baking sheet with aluminum foil and set aside.
In a small bowl mixing bowl, whisk together the egg and milk.
In a separate mixing bowl, combine the bread crumbs, cheese and pepper.
Dip each individual shrimp in egg mixture and then coat with bread crumb mixture. Place shrimp onto baking sheet.
Bake shrimp for about 8 minutes minutes or until shrimp are pink and no longer translucent and the breading is slightly crispy.
(Serves 4)