Breaded Shrimp Recipe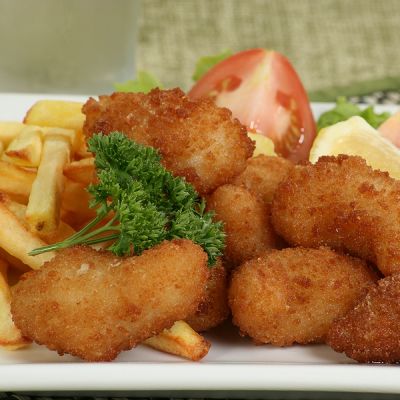 This breaded shrimp recipe has you cook the shrimp in hot oil. Although it is not the healthiest cooking method, it tastes really yummy and is good in moderation.
Ingredients
1 lb shrimp, peeled and deveined
4 cups water
1 1/2 cups cornstarch
2 eggs, beaten
2 cups fine breadcrumbs
3/4 teaspoon garlic powder
3/4 teaspoon onion powder
oil ( for deep frying)
(4 servings)
Directions
Put 1/2 inch of oil in a large skillet.
In a small bowl, mix the water, cornstarch and eggs together to form a batter.
Transfer the batter to a shallow dish.
In a bowl, mix the breadcrumbs with the garlic and onion powder.
Dip the shrimp in the cornstarch batter, then roll in the breadcrumbs.
Dip the coated shrimp back into the cornstarch batter, and roll in the breadcrumbs once more.
Place the prepared shrimp onto a plate.
Heat the oil to 350 degrees and drop the shrimp in single layer batches until golden brown.
Use tongs to transfer the cooked shrimp from the oil to a plate lined with paper towels.
Repeat the process until all the shrimp are cooked.