Brown Sugar Cinnamon Buns Recipe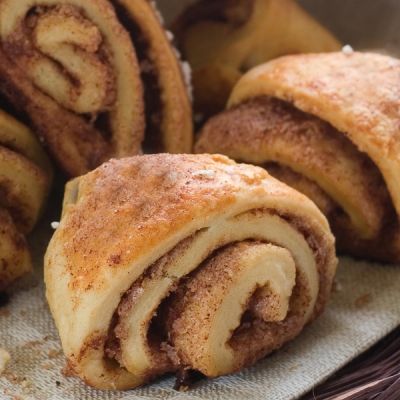 An easy to prepare cinnamon bun recipe with simple brown sugar dusted top.
Ingredients
1 package dry yeast
1/4 cup warm water
1 cup milk, scalded
3 tablespoons granulated sugar
1/3 cup butter
1/2 teaspoon salt
3 1/4 cups sifted flour, divided
3 tablespoons soft butter
1/2 cup chopped raisins
1/4 cup firmly packed brown sugar
1/2 teaspoon cinnamon
3 tablespoons brown sugar
Directions
Preheat oven to 375F.
Soften yeast in warm water and let stand for 5 to 10 minutes.
Bring 1 cup of milk to a quick boil, and then let it cool to room temperature.
Cream together butter and sugar.
Add milk to the butter/sugar and mix well.
Mix together flour and salt.
Add 1 cup flour mixture to the milk mixture and mix until smooth.
Stir in yeast. Add remaining flour mixing well.
Knead dough on floured board until smooth. Put in greased bowl, grease top, cover with towel and let rise in warm room until double.
Punch down dough, and roll into a rectangle about 1/4 inch thick.
Brush with the softened butter and spread with mixture of raisins and the 1/4 cup brown sugar and cinnamon.
Roll up and cut into 1/4-inch thick slices. Lay the slices in a buttered rectangle pan. Cover and let rise until doubled.
Sprinkle top with the 3 tablespoons brown sugar.
Bake for 20 to 25 minutes.