Brown Sugar Fudge Recipe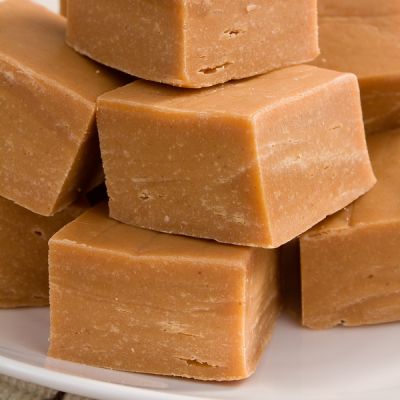 This brown sugar fudge is another recipe to add to your fudge recipe section. It is easy to make and yummy to eat!
Ingredients
Makes (1) 8x8 inch square baking pan
2/3 cup canned evaporated milk
2 cups firmly packed brown sugar
3/4 cup butter, cut into chunks
1/4 teaspoon salt
3/4 teaspoon pure vanilla extract
1 3/4 cups confectioners' sugar
Directions
Fudge
Line an 8x8 inch baking pan with aluminum foil, going up the sides.
Grease the foil on the bottom and sides with a little butter.
In a pot add the evaporated milk, brown sugar, butter, and salt.
Bring to a boil stirring the whole time. Reduce heat to medium - high heat continuing to stir.
The fudge must reach a temperature of 240F. on the candy thermometer.
If you don't have a candy thermometer, this will take about 20 to 30 minutes. (see note below)
Pour the hot mixture into a heat proof bowl and mix in vanilla.
Add the confectioners' sugar in slowly and mix till incorporated. Beat with an electric mixer on high speed until thick and creamy.
Pour into the prepared pan.
Cover with plastic wrap and place into the refrigerate for about 30 minutes.
Cut into squares.
Keep refrigerated in an airtight container.
* Note - without a thermometer - you do run the risk of fudge not setting once done. If this happens, use it as a delicious sauce.