Brownie Bite Sundae Recipe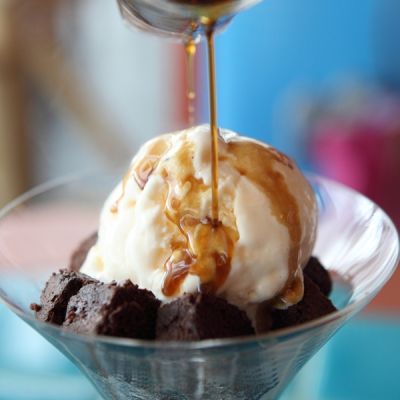 A Sweet and delicious brownie bite sundae recipe, Topped with caramel sauce.
Ingredients
Brownies
1/2 cup butter
1 cup granulated sugar
2 eggs
1 teaspoon vanilla extract
1/3 cup unsweetened cocoa powder
1/2 cup all purpose flour
1/4 teaspoon salt
1/4 teaspoon baking powder
Caramel
1/2 cup granulated sugar
3 Tablespoons butter
1/4 cup heavy cream
Vanilla ice cream, to serve
Directions
Preheat oven to 350 degrees F. Grease and flour an 8 inch square pan.
In a large saucepan, melt butter. Remove from heat, and stir in sugar, eggs, and vanilla. Beat in cocoa, flour, salt, and baking powder.
Spread batter into prepared pan.
Bake for 25 to 30 minutes. Let cool.
To make the caramel sauce. Put the sugar in a heavy-bottom saucepan over medium heat. whisk as the sugar starts to melt.
As soon as all the sugar is melted, remove from the heat and add the butter.
Once all the butter is melted, whisk in the cream until you have a smooth caramel sauce.
To Serve, scoop ice cream into serving bowls and top with brownie pieces and caramel sauce.