Brownie Cheesecake Bites Recipe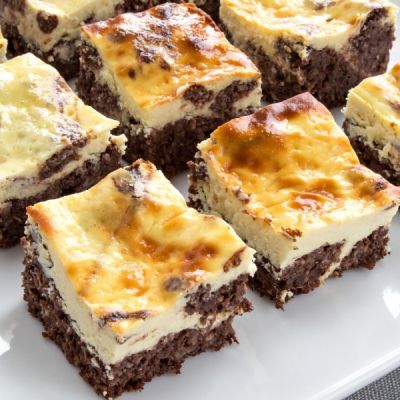 A Delicious recipe for brownie cheesecake bites. Enjoy with a glass of milk or hot coffee.
Ingredients
(1) 8x8 inch baking pan
Cheesecake Topping:
8 oz. cream cheese at room temperature
1/3 cup granulated sugar
1/2 teaspoon pure vanilla extract
1 large egg
Brownie Layer:
2 oz. semisweet chocolate, coarsely chopped
3 Tablespoons butter
2 Tablespoons canola oil
1 cup all purpose flour
1/2 cup unsweetened cocoa powder
1 teaspoon baking powder
1/2 teaspoon salt
Pinch cayenne pepper
3/4 cup packed dark brown sugar
1/4 cup granulated sugar
1/2 cup buttermilk
2 large egg whites
2 teaspoons pure vanilla extract
Directions
Brownie
Preheat oven to 350F.
Line an 8x8 inch baking pan with aluminum foil so it hangs over
the edges by about 1-inch and lightly grease the foil.
Cheesecake Topping
In a medium bowl, use an electric mixer at medium speed to beat the cream cheese about 2 minutes, until smooth and creamy.
Beat in the sugar and the vanilla until very smooth, 1 to 2 minutes. Beat in the egg until well blended. Set aside.
Brownie Layer
Put the chocolate, butter, and oil in a small heatproof bowl.
Place the bowl into an appropriate size saucepan that has an inch of water in it.
Heat to a very slow simmer, until the chocolate has melted.
Shut off and set aside.
Combine the flour, cocoa powder, baking powder, salt, and cayenne in a medium bowl.
Combine the brown sugar and granulated sugar in a large bowl and use an electric mixer to mix in the buttermilk, egg whites, and vanilla.
Add the chocolate mixture and mix until fully incorporated and the batter is thick and glossy.
Gradually add the flour mixture, mixing in.
Scrape the brownie batter into the prepared pan.
Pour the cheesecake mixture evenly over top.
Place into the preheated oven and bake for 40-45 minutes until the top is browned.
Remove from the oven to a cooling rack.
Let cool completely, then lift the brownies out of the pay by the foil.
Peel off the foil and cut into pieces.
Store in an airtight container.