Buckeye Candy Recipe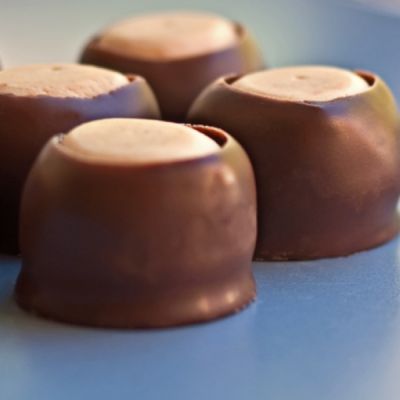 What is buckeye candy? An easy recipe for delicous chocolate dipped peanut butter balls, also known as buckeye candy.
Ingredients
Makes 40
1/2 cup unsalted butter, softened
2 cups creamy peanut butter
1 tablespoon vanilla extract
3 cups (12 ounces) confectioners sugar
16 ounces semisweet chocolate, chopped
Directions
With an electric mixer, cream butter until smooth.
Add peanut butter and continue mixing until fully blended.
Blend in vanilla.
Gradually add in confectioners sugar and mix on medium-low speed until fully blended.
Roll the peanut butter mixture into 1-inch balls, and place the balls on a parchment- or wax paper-lined baking sheet.
Push a toothpick into each ball. Put the peanut butter balls in the freezer and chill until hard (about 4 hours).
Melt the chocolate in a large heatproof bowl set over a saucepan of near boiling water, stirring until smooth.
Using the toothpick as a handle, dip each peanut butter ball in chocolate, leaving a section of peanut butter uncoated.
Place chocolate covered balls on parchment or wax paper and remove the toothpick.