Butternut Squash Pasta Recipe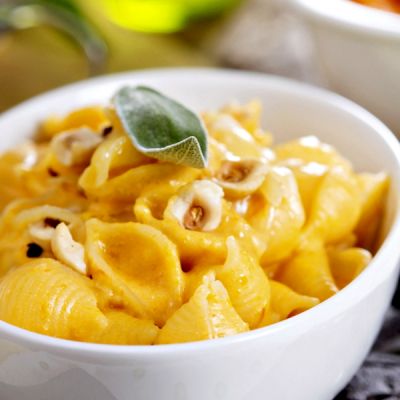 This butternut squash pasta recipe is a meal onto itself. Serve with a tomato salad and it would go very nicely with chicken.
Ingredients
1 pound pasta shells, or pasta of your choosing
1 (2 pound) butternut squash, peeled, seeded, and cut into 1/2-inch pieces
4 Tablespoons unsalted butter
1/2 cup cashews, coarsely chopped
coarse salt & freshly ground black pepper
1/4 cup virgin olive oil
1 1/2 cups grated cheddar cheese
Directions
Butternut Squash
Fill a saucepan fitted with a steamer basket with 1/2-inch water and bring to a boil over high heat.
Place squash in steamer basket and cook, covered, until easily pierced with the tip of a knife, about 8 minutes. Remove from heat and set aside.
In a medium skillet over medium heat, cook butter, stirring, until melted and just beginning to brown, about 5 minutes.
Add the cashews and cook, stirring, until lightly toasted, about 3 minutes.
Add in the steamed squash mixture and stir gently to combine; season with salt and pepper.
Transfer to a large mixing bowl.
Pasta
Cook pasta, and drain.
Add the olive oil and season with salt and pepper; toss to combine.
Preheat the oven to 350 degrees F.
Grease an ovenproof dish with butter.
Combine the pasta with the butternut squash mixture and stir in the grated cheddar cheese.
Transfer to the prepared baking dish and place into the oven for about 20 minutes to heat through and melt the cheese.