Butterscotch Cheesecake Recipe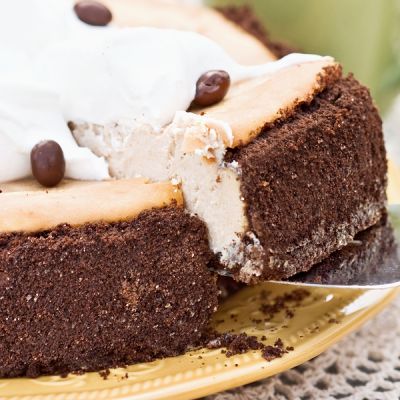 This butterscotch cheesecake makes a creamy smooth dessert. Serve with fresh whipped cream.
Ingredients
Crust
2 cups chocolate wafer crumbs
4 Tablespoons all purpose flour
4 Tablespoons granulated sugar
1/2 cup butter, melted
Filling
3 cups butterscotch chips
1/4 cup whipping cream
2 cups cream cheese, at room temperature
1/2 cup light brown sugar
4 large eggs
1 cup sour cream
2 Tablespoons all purpose flour
1 Tablespoon vanilla extract
Whipped Cream Topping
1 cup heavy cream
1 Tablespoon granulated sugar
1/2 teaspoon pure vanilla extract
Garnish *optional chocolate covered peanuts or raisins
Serve 6 - 8
Directions
Crust
Preheat oven to 325 degrees F.
Grease lightly a 9 inch spring form pan with butter.
Combine together chocolate wafer crumbs, flour, sugar and butter until well combined. Press into the bottom and half way up the sides into prepared spring form pan.
Bake for 15 minutes. Set to cool.
Filling
In a double boiler, or a pot filled with water and a bowl melt butterscotch and cream until smooth on low heat. Set aside.
Beat together cream cheese and brown sugar, until light and fluffy. Add eggs one at a time, beating after each addition until incorporated.
Mix in sour cream, flour, vanilla and melted butterscotch until well incorporated.
Pour into prepared crust. Bake for 60 minutes, turn off oven and with door slightly open bake for another 60 minutes. Let cool.
Whipping Cream
Put your mixing bowl and beaters into the freezer for 15 minutes.
Pour the heavy cream into the chilled mixing bowl and beat for a minute.
Add the sugar and vanilla and continue beating until you have reached the perfect consistency.
Keep refrigerated.
Assembly
Release spring form pan. Spread whipped cream on top and garnish with chocolate covered peanut. Serve