Cajun Chicken Quesadilla Recipe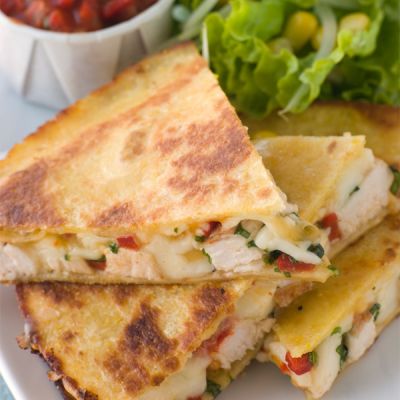 This cajun chicken quesadilla recipe is very easy to make and offers a little bit of zing to the quesadilla. Serve with salsa sauce and sour cream.
Ingredients
2-3 boneless, skinless chicken breasts, diced
1/2 teaspoon salt
1/2 teaspoon pepper
1 teaspoon cajun seasoning (more or less to your taste)
butter, at room temperature for spreading onto the tortilla
8 flour tortillas
1 lb mozzarella cheddar blend cheese, shredded
1 small red pepper, chopped into small pieces
1 small handful cilantro finely chopped
1 lb mozzarella cheddar blend cheese, shredded
Directions
Put the olive oil into a large frying, heat it up, and add the diced chicken breasts.
Cook the chicken, seasoning with cajun seasoning, salt and pepper. Stir with a wooden spoon, and cook until it no pink is showing.
Set the chicken while preparing the other ingredients.
Butter one side of all the tortillas and set aside.
Dice the red pepper into small pieces, chop the cilantro and set aside.
Place a tortilla, buttered side down, onto a clean hot pan or griddle.
Layer ingredients in the following order onto the tortilla bottom: cheese, chicken, diced red pepper and cilantro, then more cheese. Top with another tortilla, buttered side up. Cook until browned, flip then cook the second side until nicely browned.
Let stand for a few moments and then cut into quarters, serve with your choice of sour cream, guacamole or salsa for dipping.
Serve with salsa and sour cream.