Caramel Pecan Cheesecake Recipe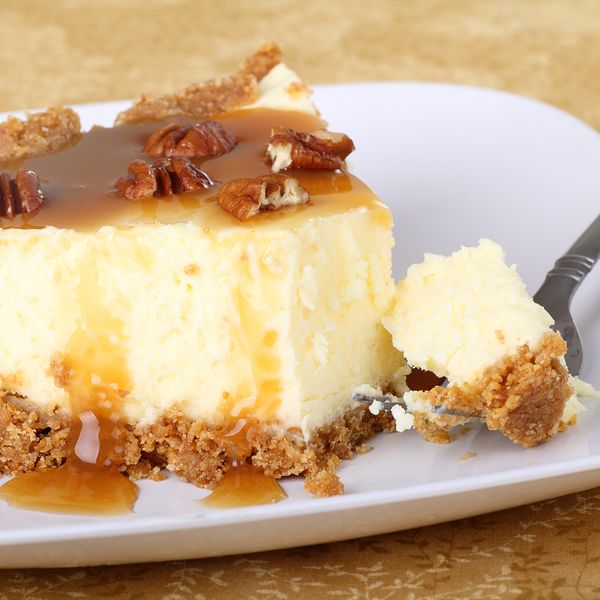 A very yummy caramel pecan cheesecake recipe
Ingredients
Crust
1 1/2 cups graham cracker crumbs
1 cup pecan pieces
2 Tablespoons granulated sugar
1/4 cup butter, melted
Cheesecake
32 ounces cream cheese, softened
2 Tablespoons water, divided
1 cup firmly packed brown sugar
2 Tablespoons flour
1 Tablespoon vanilla
1/2 cup sour cream
3 eggs
1 (14 ounce) bag caramels
2 Tablespoons water
Caramel Sauce
1 packed cup brown sugar
1/2 cup half and half or cream
4 Tablespoons butter
Pinch salt
1 Tablespoon vanilla extract
Directions
Crust
Preheat oven to 350˚F.
Using a food processor or mixer, mix crumbs, ½ the pecans, granulated sugar and butter. Using a 9 inch spring form pan, press crumbs firmly onto bottom of pan.
Bake for 10 minutes.
Cheesecake
Beat cream cheese, brown sugar, flour and vanilla with anelectric mixer on medium speed until well blended.Add sour cream; mix well.
Add eggs, one at a time, mixing on low speed after each addition just until blended.
Place 36 caramels and 2 tablespoons water in microwavable bowl. Microwave on high 1 minute or until caramels are completely melted when stirred;
Or put caramels and water in the top of a double boiler and heat until the caramels are melted.
Add melted caramels to cream cheese batter; stir until well blended. The caramel will become kind of stringy through the batter as the caramels cool. Pour over the crust.
Bake at 350˚F for 40 to 50 minutes or until center is almost set.
Let cool then refrigerate at least 4 hours or overnight.
Caramel Sauce
Mix the brown sugar, half and half, butter and salt in asaucepan over medium to low heat. Cook while whisking gently 5 to 7 minutes, until thicker. Add vanilla, cook 1 minute. Turn off and let cool. Serve over cheesecake slices.
Sprinkle a few pecan pieces on each slice.