Caramel Shortbread Squares Recipe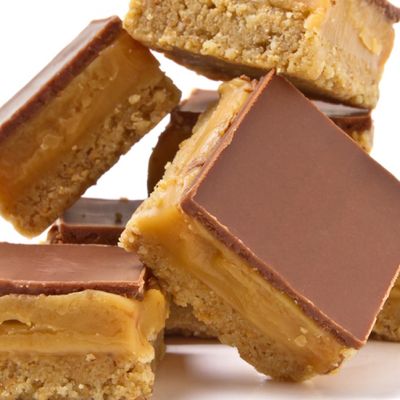 An easy and delicious dessert square recipe.
Ingredients
Base
1 1/4 cups all purpose flour
1/4 cup granulated sugar
1/2 cup margarine, or butter, at room temperature
Filling
1/2 cup butter
1/2 cup brown sugar
2 Tablespoons corn syrup
1/2 cup condensed milk
Topping
1 cup semi-sweet milk chocolate chips
1 teaspoon margarine or butter
Directions
Preheat oven to 350F.
Grease and 8x8 inch baking pan.
Base:
Place the flour, sugar and margarine into a mixing bowl and combine using a wooden spoon.
Transfer to the prepared baking pan.
Place into preheated oven and bake for 20 minutes or until golden.
Remove and place onto a cooling rack.
Let cool before putting the filling.
Filling:
Place the margarine, sugar, syrup and sweetened condensed milk into a sauce pan and heat over medium heat.
Bring to a boil, and let it boil for five minutes, stirring constantly, as it can burn easily.
Remove from heat.
Beat with a wooden spoon until it starts to thicken, then pour over the cooled base.
Place into the refrigerator to cool before putting the chocolate topping layer.
Topping:
Melt chocolate chips with margarine in a small saucepan over very low heat.
Once smooth and runny, pour over the cooled squares. Spread out with a spatula.
Place into the refrigerator to chill then cut into small squares.