Carrot And Walnut Loaf Recipe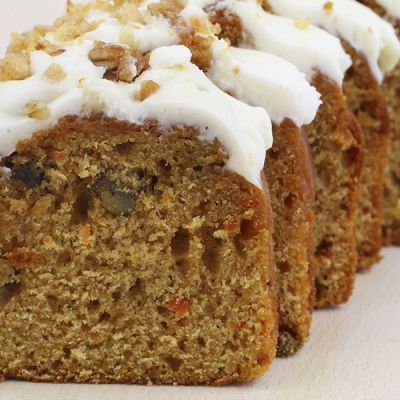 This carrot and walnut loaf recipe is topped with an easy cream cheese frosting and makes two loaves.
Ingredients
3 cups all purpose flour
1 teaspoon baking powder
1 teaspoon baking soda
1 teaspoon salt
2 teaspoons ground cinnamon
1 teaspoon grated nutmeg
1 1/2 cups sugar
3 eggs, beaten
1 cup vegetable oil
2 cups grated carrot
1 cup chopped walnuts
Frosting (optional)
1/2 package (4 ounces)cream Cheese, softened
1/8 cup butter, softened
1 teaspoon vanilla
2 cups confectioners' sugar, sifted
1/2 cup walnuts, chopped for garnish
Directions
Preheat oven to 350 degrees F.
Grease two 9x5 inch loaf pans with butter.
Sift together, flour, baking powder, baking soda, salt, cinnamon and nutmeg in a large mixing bowl.
Add the sugar and blend.
Mix the eggs with the oil and add that to the flour mixture, mix again.
Mix the carrots and walnuts, add and mix.
Pour evenly into cake pans, and bake for approx 50 minutes or until you can insert a toothpick into the center and it comes out clean.
Frosting
Beat cream cheese, butter and vanilla in large bowl with mixer until well blended.
Add sugar gradually, beating until well blended after each addition.
Spread frosting onto cooled cake and garnish with chopped nuts.