Carrot Applesauce Cake Recipe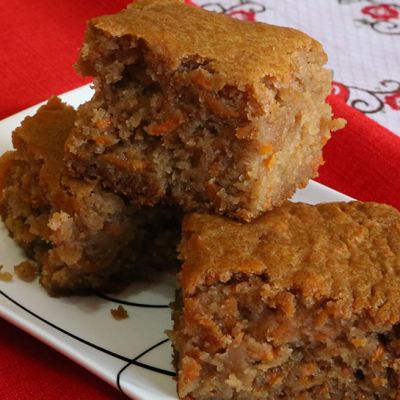 This carrot applesauce cake recipe is moist and delicious and keeps well for about a week.
Ingredients
2 cups all purpose flour
1/2 cup rolled oats
1 1/2 teaspoons baking powder
1 1/2 teaspoons baking soda
1 Tablespoon cinnamon
1 teaspoon nutmeg
1 teaspoon salt
4 eggs
3/4 cup vegetable oil
1 cups brown sugar
1 teaspoon pure vanilla extract
1 2/3 cups unsweetened applesauce
3 cups finely grated carrots
Directions
Preheat the oven to 350F.
Grease at 9x13 inch baking pan.
Sprinkle the pan with a bit of flour and set aside.
In a large bowl, mix together flour, rolled oats, baking powder, baking soda, cinnamon, nutmeg and salt.
In a medium bowl, whisk the eggs together.
Stir the oil, sugar, vanilla, applesauce and grated carrots into the eggs.
Add the wet ingredients to the dry, stir until just mixed, and pour the batter into the pan.
Bake for 65 to 70 minutes, until a toothpick inserted in the center of the cake comes out clean.
When done, allow the cake to sit in the pan for at least 15 minutes.
Store in an airtight container anything that is not eaten that day.