Carrot Cake Muffin Recipe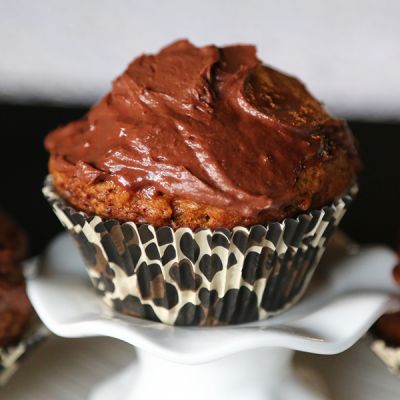 This carrot cake muffin recipe is topped with a rich and decadent chocolate cream cheese icing.
Ingredients
1/2 cup coconut palm sugar (or regular sugar)
1 1/4 cups all purpose flour
1 teaspoons baking soda
1 1/4 Tablespoons baking powder
1/2 teaspoon sea salt
1/2 teaspoon cinnamon
1/8 teaspoon nutmeg
1 Tablespoon maple syrup
2 eggs
150mL grapeseed oil
2 cups grated carrots (about 4 medium carrots)
(Makes 12 muffins)
Chocolate Cream Cheese Frosting
1 cup confectioners sugar
1/8 cup unsweetened cocoa powder
Pinch of salt
3 ounces cream cheese, room temperature
1/2 cup butter, at room temperature
4 ounces dark chocolate, melted
1/4 cup sour cream
2 Tablespoons milk
Directions
Muffins:
Preheat the oven to 350F.
Grease the holes of a 12 hole muffin tray with vegetable oil.
In a large bowl mix together the grated carrots, vegetable oil, maple syrup and eggs.
In another large bowl mix together all the dry ingredients.
Mix the wet and dry ingredients together until just incorporated.
Spoon even amounts of batter into the muffin holes.
Bake for 28 - 30 minutes or until you can poke a fork in the center and it comes out clean.
Frosting:
If using a large chunk of chocolate, first chop it into smaller pieces. Over a double boiler on low heat, melt the chocolate. Once melted, leave on the burner, but turn off the burner.
In a bowl, sift the confectionersí sugar, cocoa, and salt and stir together.
In a mixing bowl, beat the cream cheese and butter with a mixer on medium-high speed until smooth.
Reduce speed to low and add sugar-cocoa mixture in increments.
Beat until combined. Pour in melted chocolate and beat in. Add the sour cream and beat until combined and creamy smooth.
Add the milk and mix until creamy.
Frost your muffins.
Keep any leftover frosting sealed in the fridge.