Carrot Cake Recipe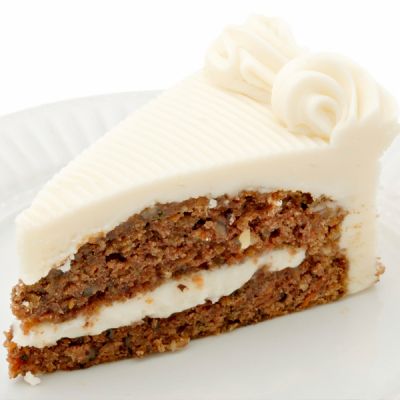 This carrot cake recipe uses carrots, pineapple, walnuts and a combination of whole wheat and all purpose flour and is coated with a tasty cream cheese frosting.
Ingredients
Carrot Cake
1 cup whole wheat flour
1 cup all purpose flour
1 teaspoon baking powder
1 1/2 teaspoons baking soda
1 teaspoon salt
2 teaspoons cinnamon
3/4 cup grapeseed oil
3/4 cup honey
4 eggs
2 cups fresh grated carrots (about 2-3 carrots)
1 cup unsweetened crushed canned pineapple, drained
1/2 cup chopped walnuts
Cream Cheese Frosting
3 1/2 cups confectionersí sugar
1 cup cream cheese, at room temperature
1/2 cup butter, at room temperature
1 1/4 teaspoons vanilla
Directions
Cake
Preheat oven to 350 degrees F.
Grease two 9-inch cake pans.
In a large mixing bowl combine the flours, baking powder, baking soda, salt and cinnamon.
In another bowl, mix together the oil, honey and eggs.
Add the oil mixture to the dry ingredients and mix well.
Stir in the grated carrots, crushed pineapple and walnuts with a wooden spoon until you see it is well combined.
Divide the mixture into the two pans and place into the preheated oven.
Bake for for 35-40 minutes or until a toothpick inserted in the center of the cake comes out clean.
Remove the cake pans to cooling racks and let the cakes cool in the pans for the first 10 minutes.
Remove from pans onto the cooling racks and cool completely before frosting.
Cream Cheese Frosting
In medium bowl use an electric mixer, or mix with a fork vigorously to beat together all the ingredients until smooth.
Fill a piping bag with a portion of the frosting.
Assembly
Place one cake layer onto a cake plate.
Spread frosting onto the first layer.
Place the second layer of cake on top.
Frost the top and outside of the cake.
Pipe on an edging.
This cake is best stored covered in the refrigerator.