Cauliflower And Cheese Recipe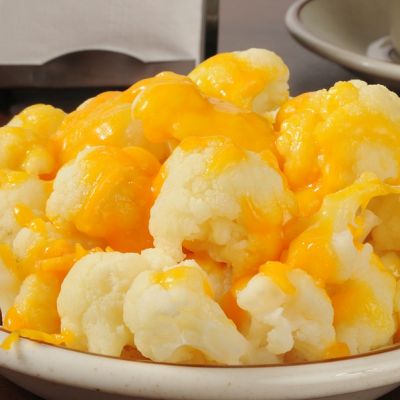 This cauliflower and cheese recipe is for basic boiled cauliflower served with a homemade cheesesauce.
Ingredients
1 cauliflower head (medium size 1.5lb-2lb)
3 Tablespoons of butter, divided
3 Tablespoons of all purpose flour
2 egg yolks
pinch of cream of tartar
1/2 teaspoon salt
1 cup grated cheddar cheese
Directions
To prepare the cauliflower, separate into florets of similar size.
Put a teaspoon of salt into a pot of cold water and soak the florets for about 20 minutes.
Drain and rinse the cauliflower with clear water.
Fill the pot with enough water to just cover the cauliflower and bring to a boil, then turn the heat down and cook for about 6-12 minutes. Just until the cauliflower is tender, don't overcook and make mushy.
Turn off and drain the water from the cauliflower.
Reserve 1 cup for the sauce. Place a lid onto the cauliflower and set aside.
Reserve another 1/2 cup in case you need to thin the sauce more.
Place a medium sized saucepan onto the stove top and melt 1 1/2 tablespoons of butter in it. Stir in the flour and keep stirring.
Slowly pour in 1/4 cup of the cauliflower water, and continue stirring with a silicone spatula breaking up any lumps.
Pour in the remaining 3/4 cup of cauliflower water and bring the sauce to a boil then turn down to a simmer, add the pinch of cream of tartar and the salt and keep cooking for 5-10 minutes until it thickens.
Remove the saucepan from the heat and stir in the remaining 1 1/2 tablespoons of butter.
Separate the egg yolks from the whites and place the egg yolks into a small bowl.
Spoon 2 tablespoons of the hot sauce into the egg yolks and stir quickly with a fork so you do not cook the yolks. This is called tempering. Add another 2 tablespoons of the hot sauce to the eggs and stir in.
Now you can whisk the egg yolks into the sauce and continue to whisk until it is combined.
Stir in the grated cheddar cheese. If you find the sauce is too thick, you can always add a little more cauliflower water to it.
Place the cooked cauliflower into a serving bowl and pour the sauce over.