Cheese Canneloni Recipe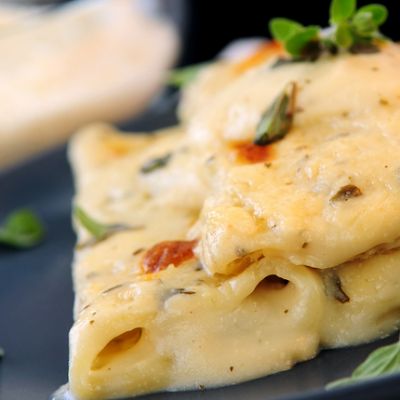 This cheese canneloni recipe makes a rich main course that would go very well with a ceasar salad.
Ingredients
1 Tablespoon olive oil
1 small onion, minced
2 cups of your favorite alfredo sauce
2 cups ricotta cheese, divided
2-3 garlic cloves, minced
1 teaspoon fresh oregano, minced
1 teaspoon nutmeg
salt and freshly ground pepper
12 cannelloni tubes
1/2 cup parmesan cheese, grated
(serves 6)
Directions
Heat olive oil in a large saucepan set over medium-high heat.
Add minced onion and saute for 2-3 minutes. .
Add the alfredo sauce.
Allow sauce to simmer on low for about 30 minutes.
Add 1 cup of the ricotta cheese to the sauce. Stir gently to combine.
Preheat oven to 400ºF.
In a large mixing bowl, combine the remaining ricotta cheese, minced garlic, fresh oregano, nutmeg, salt and pepper.
Using a spoon, fill the uncooked cannelloni tubes with the ricotta cheese mixture.
Evenly spread 1/2 cup of the alfredo sauce over the bottom of a 9x13-inch casserole dish.
Place the full cannelloni tubes in a single layer in the dish.
Pour over the remaining alfredo sauce.
Sprinkle the top with parmesan cheese.
Bake in preheated oven for 35 minutes.
Serve immediately