Cheese Enchiladas Recipe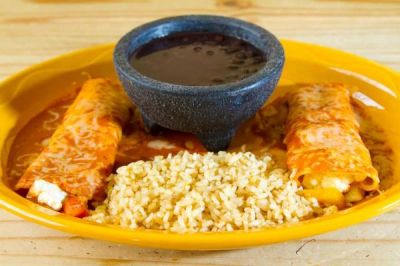 A very yummy recipe.
Ingredients
1 (8 ounce) cans enchilada sauce
1 (16 ounce) cans tomato sauce
2 tablespoons chili powder
1/4 cup water
1 large onion, diced
1 (8 ounce) cans olives, sliced (optional)
10 ounces monterey jack cheese
10 ounces cheddar cheese
12 -15 corn tortillas
Directions
In a wide shallow bowl, mix enchilada sauce, tomato sauce and chili powder and water; set aside.
Shred both cheeses and mix together in a bowl.
Warm a skillet with oil just covering bottom of skillet.
Soften tortilla in the pan, just til it becomes a bit limp.
Dip heated tortilla in the sauce and then slide into a square or rectangular shaped casserole dish.
Fill tortilla with olives, onion and cheese.
Repeat process stacking each new enchilada next to the previous one until dish is full.
Pour remaining sauce evenly over the enchiladas, top with any remaining cheese, onions and olives.
Bake at 350 degreesF for 10 to 12 minutes until the cheese is melting and bubbly.