Cheesecake Brownies With Raspberries Recipe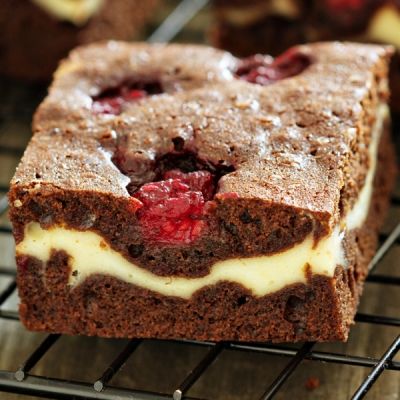 A very tasty recipe for cheesecake brownies with raspberries
Ingredients
(1) 9x13 inch baking pan
Brownie Layers
1 cup butter, cut into pieces
8 ounces unsweetened chocolate, coarsely chopped
2 cups granulated white sugar
2 teaspoon pure vanilla extract
4 large eggs
1 cup all purpose flour
1/4 teaspoon salt
Cheese Cake Layer
8 ounces cream cheese, at room temperature
1/3 cup granulated white sugar
1/2 teaspoon pure vanilla extract
1 large egg
1 cup fresh raspberries
Directions
Brownie
Preheat oven to 350F.
Grease a 9x13 inch baking pan lightly with butter.
Place a heatproof bowl over a saucepan of simmering water.
Melt the butter and chocolate.
Remove from heat and stir in the sugar and vanilla extract.
Add the eggs, using an electric mixer on low to beat in, one at a
time until well incorporated.
Beat in the flour and salt and until the batter is
smooth and glossy.
Spread half of the brownie batter evenly onto the bottom of the prepared pan.
Cream Cheese Layer
Using your food processor or an electric mixer, beat the cream cheese just until smooth.
Add the sugar, vanilla, and egg and mix in until just until creamy and smooth.
Spread the cream cheese filling evenly over the brownie layer.
Spoon the reserved brownie batter evenly on top of the cream
cheese layer in spoonfuls. place raspberries evenly around top
press them in slightly.
Place in the preheated oven and bake for 30 minutes or until a toothpick inserted in the center comes out with a few crumbs and
the brownies are set.
Remove and place on a cooling rack to cool before cutting.